CHOPSTICKS SINGAPORE and CHOPSTICKS Customise Printing
Choose from over 100s designs of chopsticks, classic fans, teapots and other Chinese traditional products for wedding ,event or corporate gifting ( All enquire is most welcome)  .
Call me (Mr Johnny Low) at 91732628 hp or WhatsApp me or to arrange for a meetup at our showrooms and friendly discussion.
Special price will be given for corporate order.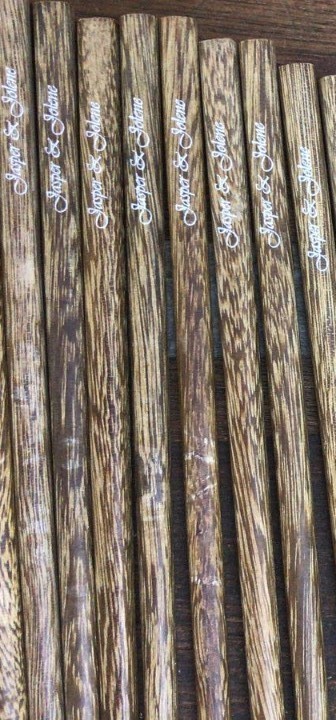 Chopstick Utensils – Why They Are Perfect Giveaways In Parties
---
Chopsticks – The Difference Of Each Pair In Different Countries
Chopsticks are believed to have originated from China during the Shang Dynasty before other neighborhood Asian countries followed to use it. Today, we use these pairs during meal time in Japan, Korea, Thailand, and Vietnam.
The length and style of chopsticks differ in various countries. In China, they are traditionally around 10.5 inches long, and have a cut tip. In Japan, they are shorter at 9 inches and tapers to a fine rounded tip. In Vietnam and Thailand, they are typically the same length as the Chinese's but with a tapered end like the Japanese's.
Chopstick As Gift – The Ideal Present For All Occasions
In Asian countries like Singapore where a lot of locals favor eating using chopsticks, it is deemed classy to give these eating utensils as gifts. Indeed, there are many who give personalized chopsticks away as souvenirs to guests in weddings, baptisms, birthday parties, corporate bashes and more.
A chopstick is believed to reflect kindness and gentleness. And when given in weddings, they also mean fertility. That is why they are perfect as giveaways for weddings. They are considered appropriate gift for corporate functions as well as they are elegant without being too expensive. You can have them personalized with your company's name and logo etched on the top ends to indicate the gift as coming from your company.
Although most are made from wood or bamboo, a chopstick can be produced from more expensive materials, such as stainless steel, ivory, and cloisonné enamel, which are the rage today for chopstick materials. These types are popular giveaways in weddings. They are often embossed with the couple's initials and the wedding date, and are wrapped in beautiful sleeves.
They don't discriminate genders so they are ideal souvenir gifts in parties. This way the host doesn't have to separate gifts for the men and women anymore.
---